In September 2013 the West India Committee (WIC) embarked on a new initiative; in that we would specifically be targeting and engaging with more youth and young adults. As part of this programme, the WIC would sponsor someone for the West India Committee Scholarship.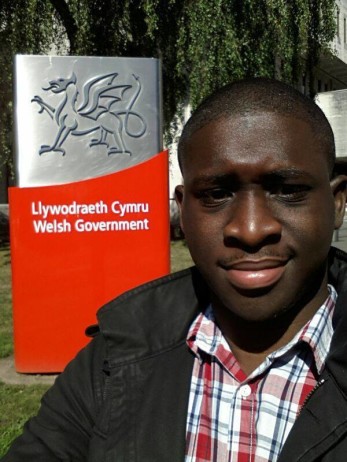 The recipient would be someone who is of either of West Indian heritage or someone who lives in a country where West Indians have had a major impact (so it is open to practically everyone). The aim of this being that this WIC Scholar would use the training and qualifications gained to positively influence and contribute to West Indians (both those in the Caribbean and those in the diaspora.) Additionally, the individual would be selected based on their application, C.V., experience and an interview. The WIC is pleased to notify that Daniel G. Wilson was selected for the Initial West India Committee Scholarship 2013 and is the Incumbent WIC Scholar. Daniel was the former President of the Student Union (Guild of Students) at the University of the West Indies, Mona Campus in Jamaica and is the currently the Caribbean and Canada Regional Representative for the Commonwealth Students' Association (CSA). As a result of this scholarship opportunity, Mr Wilson is currently pursuing the M.Sc. International Planning and Development at Cardiff University in Wales and already has a B.Sc Management Studies.
The West India Committee's (WIC) Scholar, Daniel G. Wilson, has completed his second semester at Cardiff University where he is pursuing the M.Sc. International Planning and Development degree. Daniel is on course for a distinction after being successful in his first semester where he received the following results in the three courses he pursued; Grade A, Grade A and Grade B. He has been working hard to replicate or better the semester one results in semester two and will provide an update accordingly. Daniel has been very active this semester and has gained membership of three Chartered and Accrediting institutions, namely; the Royal Town Planning Institute (RTPI), the Royal Institution of Chartered Surveyors (RICS) and the Chartered Institution of Wastes Management (CIWM).
Daniel along with two other students have been selected to attend the University of Ankara, in Turkey on an Erasmus Exchange Intensive Programme that is sponsored by the European Union and the European Commission. According to the organisers, hundreds of participants applied but Cardiff University, like all the other European Universities, could only allowing the top three applicants to participate. Daniel is relishing this opportunity which takes place during April/May 2013 and he is upbeat about integrating and learning more from this experience. More details about the Erasmus Exchange Intensive Programme can be seen here at http://esdp-network.eu/ip/ip-ankara-2014/
Additionally, he has been selected to attend the Commonwealth Games Youth and Student Leadership Conference called 33Fifty; put on by Common Purpose in Glasgow and Edinburgh between July 17 -21, 2014. More details about the Commonwealth Youth Conference can be sen here at http://www.33fifty.org/
Daniel has now been allocated his dissertation supervisor and he has been examining topics surrounding Planning and Development focused on the West Indies. He strongly believes that he can use this 20,000 word project to examine issues and propose justifiable solutions which will improve the development of countries within the Caribbean region.
In other news, Daniel was nominated for the Jamaican Prime Minister's Youth Award for Excellence in the category of 'Leadership'. Daniel did not win the award but high commendations were bestowed upon him for him years of service to youth leadership in Jamaica. More information can be seen here at http://www.jamaicaobserver.com/latestnews/Nominees-in-PM-Youth-Awards-for-Excellence-announced